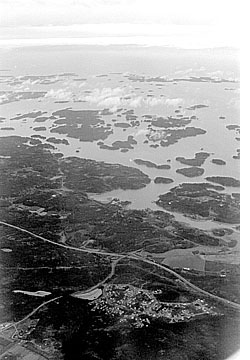 I´m coming in from Duesseldorf International to Helsinki Vaanta Airport after a 2,5 hour flight. Finland is a great sight from high above, endless forest and water, the shore with countless isles...
My first real finnish contact is a Finnair Bus driver. It takes about 30 minutes from Vaanta to the city centre by bus, first through the woods and then through the suburbs around Helsinki (not really "around" because the city centre is surrounded by water in the east, south and west).
Pekka picks me up at the railway station and we walk, his bicycle carrying my travel bag, to his flat in south Helsinki. He offers me some excellent homemade salmon sandwiches with self-prepared, just slightly salted, fresh salmon on dark rhye bread with one leaf of green salad - most delicious.
In the late afternoon we watch some old waltari videos, e.g. the funclub video part I - which i hadn´t seen yet. Kärtsy joins us at about 9 pm, we talk and drink and pekka starts a "who knows this 70ies rock song" contest - Kärtsy wins, because i simply don´t know most of Pekka´s favourite 70ies bands, e.g. "Hanoi Rocks", -the- famous finnish rock band from the 70ies.
Pekka wants to see a concert of "5/15" tonight, the band of Waltari´s booking agent Mikka "the Space Cowboy", so we walk to "Gloria" venue. 5/15 is not playing yet, we go upstairs to have a beer and meet some people. Kartsa the roadie is here, some brother of Roope, the bass player of Amorphis and others.
Around midnight 5/15 starts playing; some people like Pekka call their music progressive rock, others think it to be regressive - anyway, to me it´s definitely rock music with roots in the 70ies, especially influenced by "The Who". Kärtsy leaves the show after some songs to visit the "Soda" Club, a "place to be" where a lot of in-people and musicians hang around.
We stay in Gloria until the end of the show, later we continue at Pekka´s appartement... At six o´clock Kartsa and his translating friend (thanx again) leave in the morning - i´m really glad to get into bed. Good night.