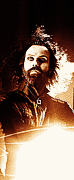 Waltari - Kärtsy
Foto: Jani Mahkonen/Loma Graphics Oy 2006
A short presentation in english:
Waltari are known as the crazy metal rockers from Finland, playing ultimate crossover music. In a musical adventure that began in the early 90's and has taken place across Europe, Waltari have found a place in the hearts of music lovers everywhere. Mixing different aspects of rock music tradition, Waltari have crafted totally new combinations.
With a pioneering and open-minded approach, the band has evolved into a melting pot of musical genres assimilating everything that is current. Internationally acclaimed and known for its powerful stage presence, Waltari has toured Europe on many occasions, lived in Berlin and New York, co-operated with symphony orchestras and Finnish National Ballet, released 11 studio albums and 3 compilations... "Ride on - till the Music Nation comes!"